Where Will You Get Your Textual Variants?
Where will you get your textual variants? April DeConick over at the Forbidden Gospels Blog was musing on the Nestle-Aland Greek New Testament and how it doesn't give you all of the information that is out there. She's right and it is worth a read. There's also a follow-up post. However, among the commentators I think there is a little confusion about some of the resources (for example, that Swanson's work is not an attempt to be exhaustive, which Chuck Grantham, a frequent comment guy here pointed out). In my continuous attempt to not be completely useless, I am going to contribute a little.
Okay, so I want to see all the variants for a book. What do I do? How do I get that very important data?
You Don't
That's right, you don't. Here's a very important fact for all of us to keep in mind. Not every Greek New Testament manuscript has been collated, i.e., not every manuscript has been studied and their variations noted so we know what they are. So no, you can't have them.
And yes, this is most definitely bad. But what can we do? Well, first, there are roughly 5700 cataloged New Testament Greek manuscripts. Who is going to collate them? Until somebody can come up with some super-awesome-mega OCR technology, it will be a manual task. And there are not nearly enough people in the field to do it.
And if you think the Greek variants are all that is important, then you're incorrect. The early translations of the New Testament are very useful, and there are tens of thousands of those. Who will collate them?
Having too many manuscripts is a great problem to have. And since we have that problem, you will not have an exhaustive source anytime soon. In the meantime, there are sources that will help you to get some of the data.
Novum Testamentum Graecum
Aka The Nestle-Aland Greek New Testament, or NA27, this text is one of the two typically used by students of the Greek New Testament. Here's a shot of page one of 1 Thessalonians:
Wow! Look at all those variants! Actually...that's not that many, as we will see. The NA27 is good for pointing out important variants, but the lists of manuscripts in the apparatus can be a little skimpy.
Here's a shot of the 21st edition. It has come a long way.
Don't I have a pretty finger?
Novum Testamentum Graecum - Editio Critica Maior
The organization behind the NA27 is the Deutsche Bibelgesellschaft. They are working on a new edition. You can see some of their work in the volumes of the Editio Critica Maior that they have published thus far. Here's a shot from James (I don't have the volume on 1 Thess or I would show that...and it may not even be published yet):
So there you have many more variants. This edition will not include all variants and all manuscripts, but you have a much better source for variant data.
The United Bible Society's Greek Text
The UBS4 is the second really popular Greek New Testament. It has the same text as the NA27, but different variants. As a general rule, it will show less variants, but will provide more information for those it goes to the trouble of showing. Here is a pic of 1 Thess:
Tischendorf
Constantin von Tischendorf is one of the greatest, if not the greatest, New Testament textual critic of all time. He discovered and collated a plethora of manuscripts, including the very important codex Sinaiticus. The eighth edition of his Greek New Testament has the best textual apparatus around.
The amount of data in his apparatus is enormous, but is not exhaustive. His 8th edition, published in the 1800's, has still not been surpassed in terms of apparatus. Comparatively, everyone else who has done this for the entire New Testament is a lightweight. But there are some who have done it for part of the New Testament, like...
The International Greek New Testament Project
If you want an exhaustive list of variants, this is the place to go. You can find the website for the International Greek New Testament Project here. They are attempting to work book-by-book through the New Testament and collate all Greek manuscripts and list the variants. This is only partially true in that they are (I hear) not listing singular readings (i.e., readings that only occur in one manuscript). But, this is exhaustive as you are going to get for now.
They have finished Luke and are working on John. The data on John is available online in a very inconvenient format here.
I do not have a screenshot for you because to afford one of the volumes I would have to sell a kidney or one of my children as it is published by Brill. But I have viewed the volumes and they would be quite useful.
Of course, all of these volumes are already out of date. CSNTM just discovered a number of new gospels manuscripts, and new manuscripts are popping up all the time, like four recent papyri of John.
The Greek New Testament According to the Majority Text
Some editions of the Greek New Testament have a textual apparatus. Others have a "textual apparatus". This is the case for the majority text edited by Hodges and Farstad.
If you are looking for variants, don't look there. Of course, if you are looking for the text of original New Testament, definitely don't look there :)
New Testament Greek Manuscripts by Swanson
This is not to be confused with those who sell tasted frozen foods. I am referring to a set of books by Reuben Swanson that has variants and text laid out in a very verbose, and intriguing, manner. Here's a screenshot from the only volume I own, that on 2 Corinthians: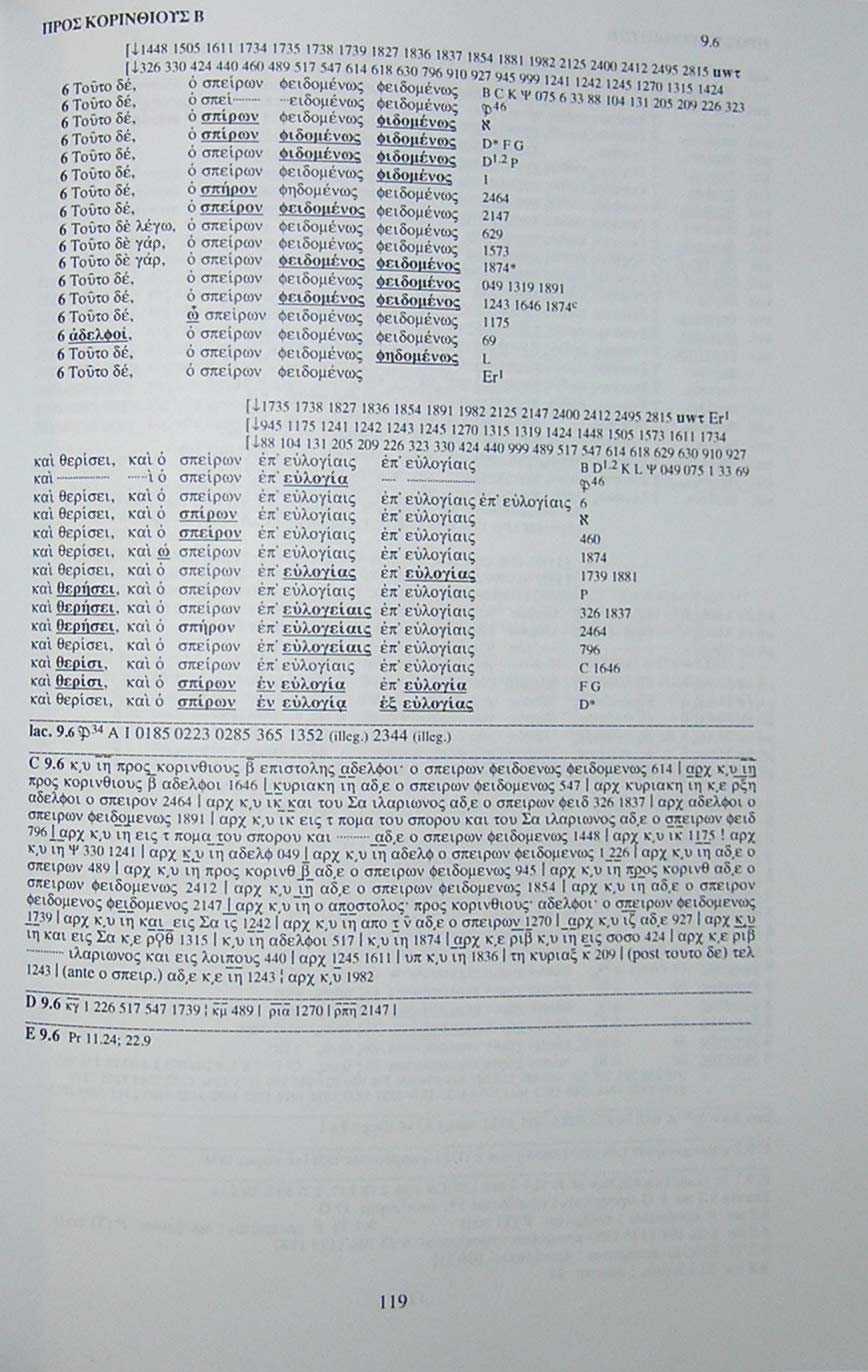 His layout is very interesting and he covers a good number of manuscripts. I ran across my volume at Half Price Books just a couple days ago. I need to find the other volumes and add them to my library.
The torch for this project has apparently been passed on. Hopefully more volumes are forthcoming.
Conclusion
More and more frequently digital images of manuscripts are popping up on the web. The collection I am most familiar with is that of CSNTM. If you want variants, you can always go do some collating yourself! As I find more sources for variants, I promise to post info about them on the blog. So stick around.