Pictures of the Study...Finally!
I've been working on this thing for two months now. It has been very close for a while. It's finished now...really. It has been so long that for some of you this mythical uber-study may be as real as "Secret Mark" is to Stephen Carlson (for those who don't get the reference, Stephen thinks SM is a hoax), but here is the proof. But first, where did it all start...
It all started pink. Horribly pink. Where the walls aren't pink, they have walpaper on them which is white, light blue, and pink. Spend enough time thinking in this room and you start to feel your ability to be a man seep away from you...
This is from the door to the study, looking at the back of the house. It is a 20' by 22' room. Notice the hint of pink.
The wall on the left side is covered with bookshelves, mostly white but partially pink.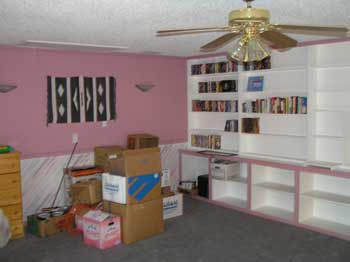 A view from the back wall back towards the opening into the house. Notice the subtle pink coloring.
The back-right corner. Still lots of pink here. Surprisingly, the blinds are also pink.
...but then I came to the rescue. I had to. There is no way I could concentrate with that much pink surrounding me. So what did we do? Let's start with the door. What a nice door. My friend Lou put it in. This is a view of the door from the living room, looking into the study.
Well, of course you open the door and go in. This is what you see:
Better? Unless you're a girl, if you don't agree there is something wrong with you. Things to notice. First, the carpet is gone and replaced with wood (laminite, I'm not rich) flooring. Second, the walls are no longer pink. They are now parisian taupe, which is a lot like normal taupe. Third, the trim is no longer pink. It is the color innocence, which is like an ivory. Fourth, the wall behind the built-in bookshelves is winsdor haze, a grayish-blue color. Fifth, the wall lights are gone, replaced by...nothing at all. Learned a lot about drywall repair patching those holes...
Here is another look of the bookshelves visible immediately in front of the door (though about 12 foot from it). This is where we currently keep our general non-fiction and our fiction stuff. There is the window as well, and an empty bookshelf. I must need more books.
Turning to the left we see my desk. Behind my desk are my most commonly used reference works and my diplomas. On the wall on the left behind the desk are my Greek books. To the left is...
...where I have my biblical studies books. This includes philosophy, history, and foreign languages as well. Notice the ample space for more books.
Another look from the front of the room. There is a section in the back that is walled off by bookshelves. This is a nice place for storing random stuff and for putting my servers.
Now from the back of the room looking towards the front. This is taken from behind the desk. That space in front of hte desk is about 12 foot long and 20 foot wide. I'm thinking of putting an area rug there and a reading chair. I also want to get into painting as a new hobby (not that I have time...). If I do that, my first subjects will be large maps of Greek, the Mediterranean, and Israel for that large, blank wall.
Looking left we get another look at that sectioned-off area. Those books are my programming books.
And, finally, another view of the desk, but from the back.
And here's me at my desk. I have disheveled hair and smug look on my face because my new study enlighted me to the extent where I simultaneously solved the Synoptic Problem and came up with a new law of thermodynamics.
So that's it! I'm very pleased. The massive amount of bookshelf space that remains is nothing less than a mandate to buy more books, I think. Actually, this is the first time since early in college that I actually have room for all my books. Woohoo!
So, two months of work, but it's over. What do you think? Any suggestions?